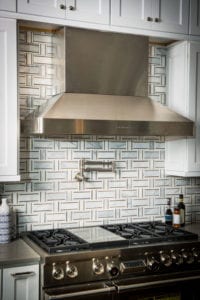 When you're designing a new kitchen, you have an abundance of choices to make. You have probably thought about the type of flooring you prefer, and the style you want to use for your countertops and backsplash, but one choice you may not have considered is what material you should use for your range hood.
When selecting a range hood, there are several factors to consider including the durability, design, exhaust fans and motors, and the type of material that would best match the style of your kitchen. You also want to consider price and your personal tastes.
Wooden Range Hoods – Wooden range hoods can be mounted to your cabinet or your wall. They can be customized to match the stain or paint of your cabinets. The exhaust fan and motor assembly must be selected separately from the exterior wooden liner.
Metal Range Hoods – Our metal range hoods can be designed to match the unique needs of each buyer. A wide variety of materials can be used to construct your range hood such as copper, zinc, and stainless steel with looks both modern and antique. Unlike wooden range hoods, the exhaust fan and motor are fully integrated into the range hood along with the exterior. Metal range hoods tend to be more affordable, last longer, and require little maintenance. Another advantage of a metal range hood is that, should you choose to refinish or paint your cabinetry, the metal range hood can fit in and look purposeful with a variety of wood finishes and would therefore not need to be changed.
If you're interested in our metal range hoods, contact us at Stainless Outfitters Inc. We look forward to working with you and helping you to select the best look and quality for your kitchen.