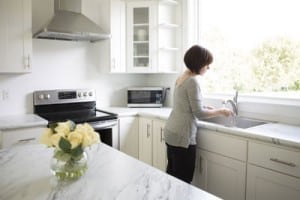 Durable and beautiful, stainless steel range hoods are a value-adding feature, as long as they are kept clean. If you have a stainless steel range hood in your kitchen and want to know the best way to clean it, here is what you need to do:
Step 1: First, gather all of your cleaning supplies. To clean stainless steel range hoods, you will need dish soap, salt, a sponge, vinegar, paper towels, and a spray bottle.
Step 2: To remove grease, pour vinegar onto your sponge and start to scrub the greasy areas. After you have done this, pour salt onto your sponge and rub it in a circular motion until all of the greasy residue has disappeared. This step may have to be repeated multiple times, depending on the thickness of the grease.
Step 3: Fill your spray bottle about 1/3 of the way full with vinegar and add 4-5 drops of dish soap. Then, fill the rest of the bottle with water. Spray down the range hood with this solution and wipe it clean with paper towels. This step can be repeated daily to keep your range hood in pristine condition continually.
At Stainless Outfitters Inc., stunning stainless steel range hoods are just one of the many products we produce. With over 30 years of experience, our flawless workmanship and exceptional designs are sure to impress, and we look forward to working with you.