Spiral stairs are now available from Stainless Outfitters Inc. to replace the traditional runged ladders found on many older cruisers such as Carver, Searay , Silverton, Shepherd, and Jefferson, just to mention a few.
With a maturing boating population, the trip from swim platform to upper deck becomes more challenging. Our new spiral stair system provides a comfortable climb and the security of a stainless handrail even if you need a free hand to carry items with you. Even the family pet will find these stairs easy to navigate
The stairs are built to the specific dimensions of your boat's transom and a simple online measuring guide, which can be filled out by the owner, will allow us to position the treads and the top step in the correct position.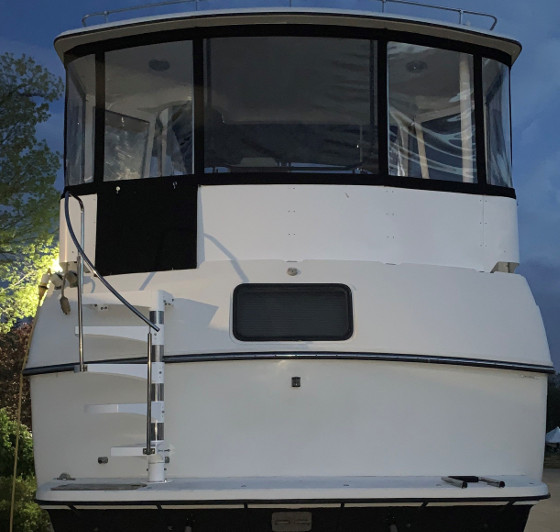 The stair system consists of two major material components. The base plate, the treads and top step are fabricated from 5052 marine grade aluminum, which is then epoxy powder coated in "Sky White". The main support post is 4.5" stainless steel brushed to a 320 finish. The handrails are polished 300 series stainless steel.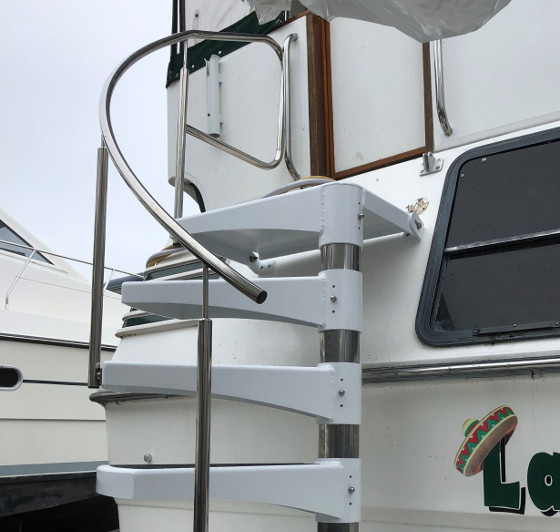 Stairs are preassembled in our plant and can be picked up in an assembled state. For stair systems that are being shipped, the pre-assembled system is taken apart and boxed for shipping. We are able to ship anywhere in Canada and the United States with the major courier companies. Parts are labelled so that re-assembly is straightforward.
Stainless Outfitters has a long history of taking your thoughts and ideas and turning them into reality. Whether you are looking for standardized or unique design, we would be pleased to work with you to bring your ideas and concepts to life.
'Custom' is our middle name.
We try to source only the finest North American raw materials. Manufacturing is carried out exclusively at our facility in Barrie, Ontario and we are eager to receive you call or inquiry to see how we can help find your ideal solution.
---
At Stainless Outfitters Inc., we offer boat stairs in Barrie, Orillia, Newmarket, Alliston, Muskoka, Collingwood, Meaford, Thornbury, Stayner, Wasaga Beach, Midland, Penetanguishene, Gravenhurst, Bracebridge, Parry Sound, Owen Sound, Huntsville, Toronto and the GTA, as well as all of Ontario and North America.
Contact us today to see if we can build one for you.
Similar Services We Offer: