Here at Stainless Outfitters Inc., we know that you want to do everything you can for your business. An important part of operating any business is making sure that your facilities are up to code, which includes installing handicap handrails. In this article, we'll go over what you need to know about handicap handrails, including the specific locations where they need to be installed, and the correct height and distance from the wall at which to place them.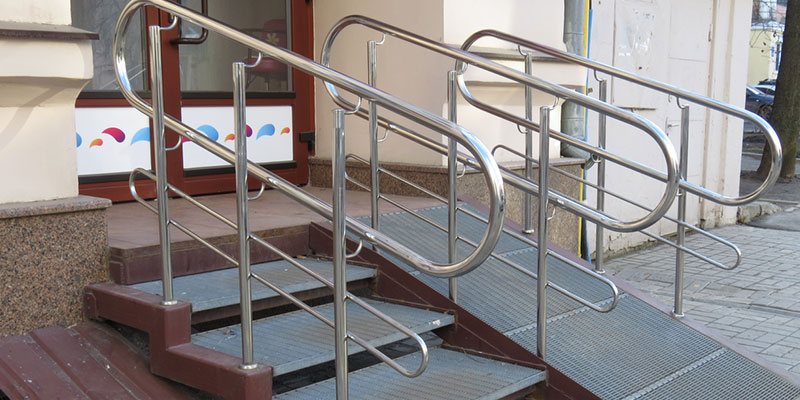 According to the National Building Code, all ramps must be equipped with handrails on both sides. When it comes to stairs, straight stairs under 1100 mm (43") in width are only required to have a rail on one side, while stairs wider than that or curved stairs of any width must have rails on both. The code also specifies that all handrails must be placed at a height of between 865 to 1070 mm (38-42") above the nosing, or the outermost edge of the tread.
A handicap handrail must be continuously "graspable" along its length. While this term is not precisely defined, the code does note that the rail should allow the user to comfortably grab hold of it by allowing their fingers and thumb to curl underneath or should have recesses deep enough to comfortably accommodate these digits. The expectation is that the user should not have to let go of the rail in order to continue to the next flight of stairs, which means that any landings will need to be equipped with rails as well.
Our team at Stainless Outfitters Inc. specializes in providing high-quality, custom steel fabrication for a wide array of applications, including handicap handrails. We are highly familiar with the National Building Code, and we guarantee that our rails will allow all your visitors to safely and comfortably use them for years to come. If you need handrails for your facilities, give our team at Stainless Outfitters Inc. a call.