High-quality stainless steel pulpit rails are the best way to ensure security and function on your boat.
We all remember that iconic moment in the movie Titanic (1997) when the main characters are standing on the pulpit of the boat and "flying." What many movie-goers failed to notice, however, were the very important pulpit rails that were keeping the actors from actually flying into the ocean water below. While we know that most of the time a boat's equipment doesn't get all the glory, in reality, it's these unseen parts that can really make a boat more enjoyable and safer to ride.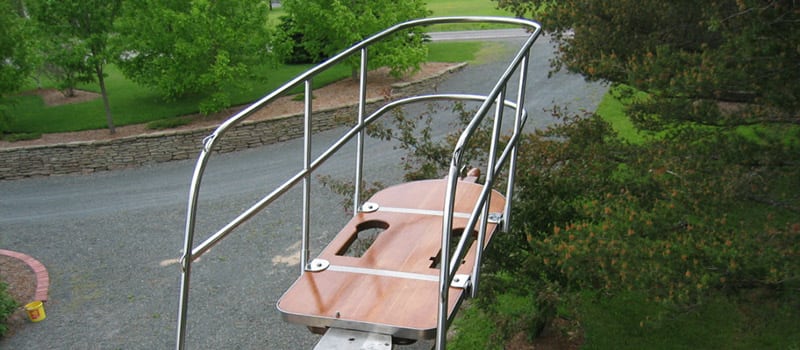 If you are planning to use the pulpit on your boat for any reason, from fishing to sunbathing, having high-quality stainless steel pulpit rails is the best way to ensure security and function. At Stainless Outfitters Inc., we can help you achieve your goals for beautiful, custom-made pulpit rails that will fit your boat like a dream and provide the function you need.
At Stainless Outfitters Inc., we have more than three decades of experience manufacturing stainless steel products for our customers. We will work with you from concept to creation, and we enjoy meeting the challenges presented when creating custom and one-off products. Whether you need pulpit rails, grab handles, cabin top rails, or ladders and lifelines, we'll make sure your boat is outfitted with the equipment it needs for a great trip every time it's on the water.
If you have questions about our services or would like to order pulpit rails and other stainless steel equipment, contact us at Stainless Outfitters Inc. today to discuss your requirements. We look forward to hearing from you.
---
At Stainless Outfitters Inc., we offer stainless steel pulpit rails in Barrie, Orillia, Newmarket, Alliston, Muskoka, Collingwood, Meaford, Thornbury, Stayner, Wasaga Beach, Midland, Penetanguishene, Gravenhurst, Bracebridge, Parry Sound, Owen Sound, Huntsville, Toronto and the GTA, as well as all of Ontario and North America.