Our strong lifelines could be a lifesaver to you one day!
Here at Stainless Outfitters Inc., we take a lot of pride in the work that we do. We feel that with our careful craftsmanship and precision methods, our finished product is one that you can safely rely upon. This feature of our business is especially important when you are literally relying on our product for your safety! With stainless steel lifelines made by our qualified experts at Stainless Outfitters Inc., you can feel confident that your safety is in the strongest of hands.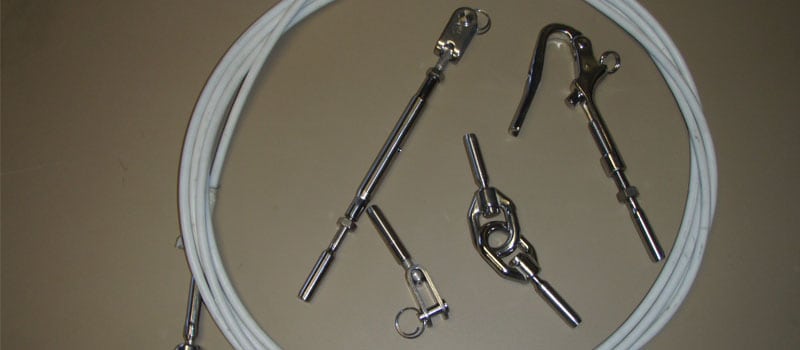 Lifelines need to be strong, durable and able to withstand a lot of use. This makes them the perfect candidates for a material like stainless steel. Because stainless steel is so resistant to rust and corrosion, you don't need to worry about the lifelines you use for sailing or other water use becoming rusted through and eventually breaking. Unlike some other shoddy lifelines that choose to use a thinner material and then coat the cord in a plastic sheath, when you choose lifelines from Stainless Outfitters Inc. they will be durably made from quality stainless steel and at an appropriate thickness for whatever activity you need your lifelines for. Once you have seen the quality and appearance of our lifelines, you won't ever go with anything else!
At Stainless Outfitters Inc., we have been working with customers just like yourself in the Barrie, Ontario area in manufacturing and providing them with the stainless steel products that they need. If you have questions about our lifelines or other stainless steel products, contact us today!
---
At Stainless Outfitters Inc., we offer stainless steel lifelines in Barrie, Orillia, Newmarket, Alliston, Muskoka, Collingwood, Meaford, Thornbury, Stayner, Wasaga Beach, Midland, Penetanguishene, Gravenhurst, Bracebridge, Parry Sound, Owen Sound, Huntsville, Toronto and the GTA, as well as all of Ontario and North America.