Stainless signage provides a flexible and durable option for your business.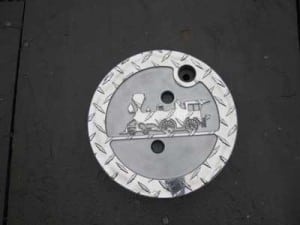 Stainless signage can be the difference between presenting your business well and leaving your customers wondering. It can also be the difference between a durable placard and flimsy sign. Regardless of the reasons why you need signage, settling for poor-quality materials can leave a lot to be desired. At Stainless Outfitters Inc., we believe you should have only the best from your front door to your desk with stainless signage that speaks volumes and stands out above the rest.
Durability – One of the primary reasons stainless signage is a great choice is because of its durability. Designed to provide weightless function, you won't be disappointed with the longevity of your signage.
Flexibility – Stainless signage is also an excellent choice for a variety of applications. From small lettering to an outdoor statement, you can make a great impression for anyone who comes through your doors.
Maintenance – Another great reason to choose stainless signage is because of the ease of maintenance. You don't have to worry about replacing your signs only a short time after purchase, and you can easily keep your stainless signage gleaming year after year.
Are you interested in learning more about stainless signage or want to place an order? Contact us at Stainless Outfitters Inc. to get started with stainless signage products for your business. We specialize in stainless steel manufacturing and use only the highest-quality materials. We will also work with you from concept to reality. Let's get started with your stainless signage today!
---
At Stainless Outfitters Inc., we offer stainless signage in Barrie, Orillia, Newmarket, Alliston, Muskoka, Collingwood, Meaford, Thornbury, Stayner, Wasaga Beach, Midland, Penetanguishene, Gravenhurst, Bracebridge, Parry Sound, Owen Sound, Huntsville, Toronto and the GTA, as well as all of Ontario and North America.