Choose stainless furniture for a functional outdoor piece or an unexpected interior décor.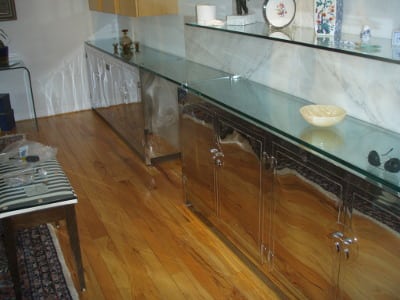 When you are looking at furniture, there are all sorts of choices for you to choose from. You can choose your furniture based on style or how it fits in the space. You can also choose between a variety of materials, including a great choice that is often discounted: stainless furniture. Furniture made from stainless steel is most often seen in industrial or outdoor settings, but there is no reason why you couldn't bring stainless furniture indoors as well for a pop of contemporary flare!
Choosing stainless furniture is choosing a product that will be able to withstand most anything, which is why it works so well in outdoor settings of any climate. If it can stand up to the weather, there is certainly nothing stopping your stainless furniture from standing up to your active family schedule! Whether you want a solid, stainless table in your kitchen for working and preparation space or you want a bold piece of stainless furniture for your bedroom or living room, our experts here at Stainless Outfitters Inc. are available to help you!
In Barrie, Ontario, you have your pick of many talented individuals who work in the trades and crafts. At Stainless Outfitters Inc., we have spent many years developing our talents and skills in order to deliver you with the best stainless options, including stainless furniture. We would love to discuss stainless furniture more with you. Please contact us today at Stainless Outfitters Inc. and let us know when we can meet with you.
---
At Stainless Outfitters Inc., we offer stainless furniture in Barrie, Orillia, Newmarket, Alliston, Muskoka, Collingwood, Meaford, Thornbury, Stayner, Wasaga Beach, Midland, Penetanguishene, Gravenhurst, Bracebridge, Parry Sound, Owen Sound, Huntsville, Toronto and the GTA, as well as all of Ontario and North America.