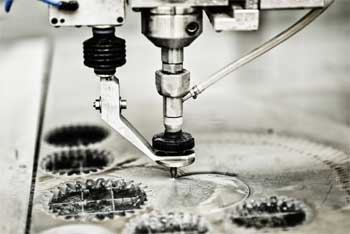 Technological advancements have been made in so many areas of our world, and the process of cutting materials is no exception. One of the most exciting advancements in cutting has been the introduction of waterjet cutting. With extreme versatility and almost endless possible uses, waterjet cutting is changing the rules that have defined cutting for a long time. Here are some of the materials that can be cut using waterjet cutting:
Glass
Fiberglass
Granite
Cement
Composites
Acrylic
Metals
Ceramics
Rubbers
Foams
Tile
Wood
Marble
Many more
If you need precise cutting that gives you a quality finish, it is hard to get a better cut than waterjet cutting can provide. There will be no heat effect or mechanical stress on your material. Forget about cutting with a saw or plasma or laser cutting. Waterjet cutting gives you a smooth, finished cut with no burns, chips or slag. There is no fire risk and no fumes from the process. It is environmentally friendly, affordable and quick.
We are so excited to have brought this advanced technology to Ontario. So, whatever material you are cutting, contact us at Stainless Outfitters Inc. We now have a 6×12 waterjet, and we can cut a wide variety of materials in thickness of over 4", including mild steel, stainless, copper, bronze, all plastics, wood, glass, ceramics and more. This technological advancement can save time and material when we are producing complex pieces. You can send us files you have already created or we can help create drawings to complete your project.