Trust us to fabricate stern rails that will last because our attention to detail is unmatched.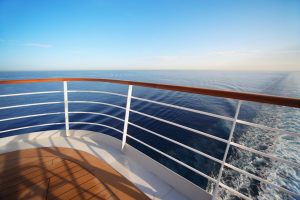 If you're a boat owner in need of stern rails for your seaworthy vessel, you're in the right place. Here at Stainless Outfitters Inc., we provide a wide range of stainless steel services that can span the gap between many different industries and needs. For the boating industry, we pride ourselves on being the foremost manufacturer of stern rails and other stainless steel components. More particularly, stern rails are an important part of any passenger vessel. Not only do stern rails provide an added layer of safety when the boat rocks, but they also offer aesthetic value to your on-boat living space. Meanwhile, you can trust that you're getting the best quality when you work with us because everything we make is type 304L and 316 stainless steel.
This is what sets us apart from our competition—we know a lot about stainless steel work, but we also know quite a bit about boats. Stern rails for boats may seem simple on the surface, but, like everything we make, they require an exact fit and design to work properly. That's why we keep all boat rail specifications of both power and sailboats on file if they were built in the last 30 years. If you own it, we most likely have your boat on file and can fabricate the stern rails that will work perfectly for your particular boat and needs. It's this attention to detail that our clients love. We won't just slap on any stern rails and call it a day. We want your stern rails to last a long time, and the quality and durability increases when they're suited to the boat that they're being installed on.
When you're looking for the right material for your stern rails, you can trust our expertise and experience. After all, we've worked with prestigious names like Bombardier Aerospace, Toronto Parks and Recreation, and The Ontario Provincial Police—just to name a few. Long story short, we don't short-change you on quality or reliability. Every piece from us is a stainless steel, functional piece of art that you can rely on for whatever you need it for. While standard production times can vary, we love talking to our customers about the ideas they have for their boat. Usually, we can brainstorm a way to work in your preferences while also ensuring that your design is compatible with the boat that you own.
It's our passion to bring high-quality stainless steel work to the Barrie, Ontario area. If you have any questions about stern rails for your boat or want to learn more about what we can do for you, give us a call. Our experts are more than happy to learn about your needs and come up with a design plan that will leave you completely satisfied with your purchase from us. Then from there, you can explore the high seas with confidence as you encounter many new adventures wherever the ocean takes you.
---
At Stainless Outfitters Inc., we offer stainless steel stern rails in Barrie, Orillia, Newmarket, Alliston, Muskoka, Collingwood, Meaford, Thornbury, Stayner, Wasaga Beach, Midland, Penetanguishene, Gravenhurst, Bracebridge, Parry Sound, Owen Sound, Huntsville, Toronto and the GTA, as well as all of Ontario and North America.