Whatever stainless steel product we produce for you, we guarantee it will add immense value to your project.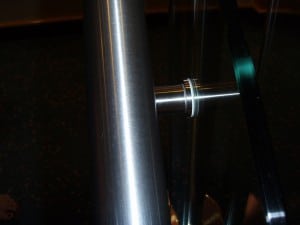 Stainless steel is a unique type of steel that can resist corrosion and stains. The steel used to create stainless steel today is a low carbon steel that is made up of at least 10 percent chromium. Thanks to its strength, durability, and exceptional appearance, stainless steel is used for many different applications and in almost every industry.
At Stainless Outfitters Inc., our stainless steel raw materials boast exceptional quality and are produced in North America. All of our suppliers provide material certifications to exhibit that their materials are highly resistant to corrosion, and all of the products we manufacture are made with either type 316 or 304L stainless steel.
While the list of products we produce is extensive, the list of industries we serve is slightly narrower. For example, we serve the marine, architecture, and art and design industries. However, please be assured that we would be more than happy to review your project's specifications, and complete it if at all possible, no matter what industry you are in.
What We Can Do with Stainless Steel
While it might be easier to make a list of what we CAN'T do with stainless steel since the possibilities are almost endless, we thought it would be helpful to touch on a few of the things we can do to spark your imagination. It is easy to fall into the trap of settling for less simply because you didn't know you could obtain a better option. If you make a habit of contacting us whenever you are looking for a durable solution, it might surprise you how we can use stainless steel to create what you need.
Upgrades and Replacements for Marine Applications- There are many ways that stainless steel can be used on watercraft. Whether you are trying to replace a damaged piece or looking to get something more stylish, we can create any of the pieces you need, including pulpit rails, stern rails, bow rails, cabin top handrails, mast collars, chainplates, outboard motor lifts, swim platforms, stemheads, ladders, davits, stanchions, radar arches, and much more.
Residential Architectural Applications- Home renovations can be taken to the next level with stainless steel custom-made range hoods, handicap handrails, backsplashes, countertops, washtubs, thresholds, stainless steel furniture, and architectural railings, just to name a few.
Stainless Steel Services- We can also repair stainless steel items that have become damaged. We offer a wide variety of services including hole punching, tube bending, stainless TIG welding, polishing, and more.
Art and Sculpture- Looking for a great piece of art for your home or business or a sculpture worthy of dressing up the exterior? We are happy to work with talented artists to create stunning pieces.
Whatever stainless steel product we produce for you, we guarantee it will add immense value to your project. We are able to promise this thanks to our 30 years of experience in the industry and our commitment to excellence.
If you want to know more about stainless steel and why it is an all-around beneficial material, reach out to us at Stainless Outfitters Inc. today. We are eager to introduce you to the quality of our materials and stainless steel products.
Save
---
At Stainless Outfitters Inc., we offer stainless steel products and services in Barrie, Orillia, Newmarket, Alliston, Muskoka, Collingwood, Meaford, Thornbury, Stayner, Wasaga Beach, Midland, Penetanguishene, Gravenhurst, Bracebridge, Parry Sound, Owen Sound, Huntsville, Toronto and the GTA, as well as all of Ontario and North America.