We fabricate boat stairs for seniors that are custom-built to your boat's specific dimensions.
One of the best things about reaching retirement is having the freedom to spend more time on your boat. As the years go by, however, you may not feel as confident when moving between the levels using the standard ladder system that most boats have. The solution is to reach out to us at Stainless Outfitters Inc. to learn about the boat stairs for seniors that we can custom-craft at our Barrie, Ontario facility.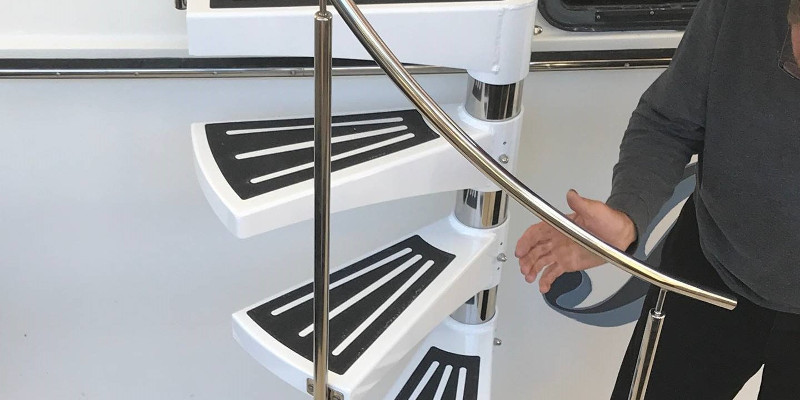 Our boat stairs for seniors can be picked up at our facility in assembled condition or we can ship to anywhere in Canada or the United States with carefully labeled parts and reassembly directions that are very straightforward to follow. We build your boat stairs to the specific dimensions of your boat's transom by having you follow a simple online measuring guide so that your boat stairs will fit perfectly into place.
Our boat stairs for seniors aren't just for a maturing boating population, but also for families with pets or children that they want to be able to move about the boat more easily. Your pet will thank you since very few could figure out how to navigate a runged ladder! Our spiral stair system is not just a comfortable climb, but also provides the security of a stainless-steel handrail so you can move from one level to the next even with items in one hand, which is something that is difficult to do with a ladder.
If you would like to know more about our boat stairs for seniors, don't hesitate to reach out to us. We'll be glad to go over the high-quality materials that are used in our stair system that will give you many years of reliable performance.
---
At Stainless Outfitters Inc., we offer boat stairs for seniors in Barrie, Orillia, Newmarket, Alliston, Muskoka, Collingwood, Meaford, Thornbury, Stayner, Wasaga Beach, Midland, Penetanguishene, Gravenhurst, Bracebridge, Parry Sound, Owen Sound, Huntsville, Toronto and the GTA, as well as all of Ontario and North America.