Our stainless steel countertops will provide lasting results for your home or business in Barrie.
It may not always be obvious, but your countertops see a lot of use each day, and they may eventually begin to show signs of wear and tear. Whether it's your home kitchen, your outdoor workshop, or your business' lobby that needs an update in Barrie, Ontario, stainless steel countertops can be an excellent solution.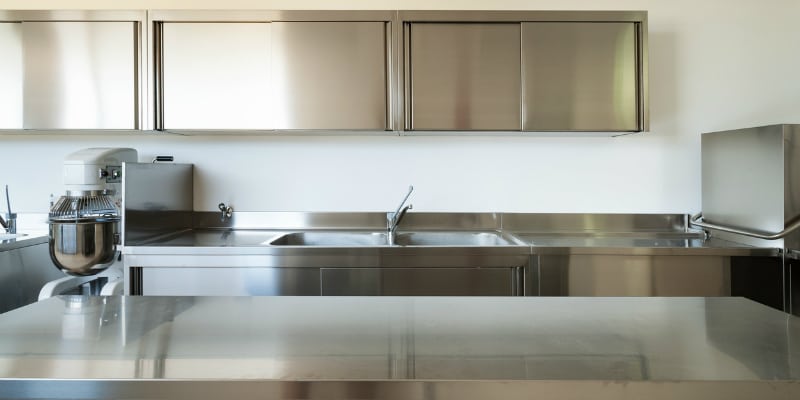 At Stainless Outfitters Inc., we know there are endless options for countertop materials on the market today. What you won't find, however, is a material that can stand up to virtually any project you have in mind – except for stainless steel. Our stainless steel countertops not only provide lasting results for your home or business, but they are also ideal for both small and large applications in virtually any setting.
What makes stainless steel countertops worth a look? To start, their contemporary appearance is a major draw. Stainless steel can brighten any area, making an entire room look larger with the addition of a single countertop. Furthermore, stainless steel countertops are customizable. At Stainless Outfitters Inc., we can assist you with the design of your countertops from concept to reality, so you get the most from your new countertops for many years to come.
Are you looking for one more reason to go with stainless steel countertops? How about the fact that they are built to last? We use only the highest-quality stainless steel materials, which are certified by our supplier. That means you can truly achieve greatness with your new countertops, no matter the application.
Contact us at Stainless Outfitters Inc. today to learn more about our services and to begin designing the stainless steel countertops that will work for you.
---
At Stainless Outfitters Inc., we offer stainless steel countertops in Barrie, Orillia, Newmarket, Alliston, Muskoka, Collingwood, Meaford, Thornbury, Stayner, Wasaga Beach, Midland, Penetanguishene, Gravenhurst, Bracebridge, Parry Sound, Owen Sound, Huntsville, Toronto and the GTA, as well as all of Ontario and North America.