We are proud to offer comprehensive sheet metal forming services to our clients.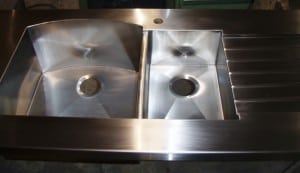 Today, more everyday objects than we can count are constructed with sheet metal. The sheet metal forming process involves taking metal and turning it into thin, flat pieces. As one of the fundamental forms used in the metalworking industry today, this process allows the metal to be bent and cut into a variety of shapes.
At Stainless Outfitters Inc., we are proud to offer sheet metal forming services to our clients in the Barrie, Ontario area. Whether you are in the auto, home appliance, aircraft, or any other industry, we can meet your needs.
Our sheet metal machining processes are extensive and include rolling, forming, punching, shearing, welding, and more. We can also work with many different types of metals, including stainless steel, aluminum, bronze, copper, brass, and more. With our extensive abilities and strict internal quality control guidelines, we are confident you will be pleased with the finished product.
The raw materials we use while forming sheet metal are of the highest quality and produced right here in North America. All of our suppliers also provide material certifications to ensure quality and maximum corrosion resistance.
To discuss the specifications of your sheet metal forming project or to receive a quote, please reach out to us at Stainless Outfitters Inc. today. We look forward to working with you and to bringing your project from concept to reality.
---
At Stainless Outfitters Inc., we offer sheet metal forming in Barrie, Orillia, Newmarket, Alliston, Muskoka, Collingwood, Meaford, Thornbury, Stayner, Wasaga Beach, Midland, Penetanguishene, Gravenhurst, Bracebridge, Parry Sound, Owen Sound, Huntsville, Toronto and the GTA, as well as all of Ontario and North America.
Sheet Metal Forming, Barrie, ONSave