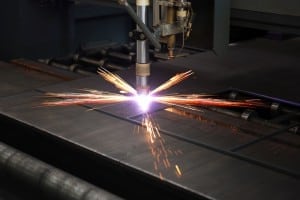 Many processes are used to cut stainless steel today, but two of the most popular are laser cutting and water jetting. Although both have similar advantages, each uses different materials that make the cutting process unique.
Laser Cutting- When a laser cutter is used, an extremely powerful laser beam is pointed directly onto a material in order to etch it or cut it. Depending on the material being cut, the laser beam is focused using a curved mirror or a special lens. It is essential that the beam is focused perfectly, so that the focus spot and the density of the energy coming from the beam are precisely round, consistent, and centered directly in the nozzle. This process generally does not produce very much waste and is relatively quiet.
Water Jetting- When stainless steel or another material is cut using water jetting, a jet of pressurized water is used. This water is usually mixed with an abrasive material, such as garnet, to ensure the material is cut cleanly and with an acceptable finish. In addition to cutting stainless steel, water jetting can be used to cut titanium, granite, ceramics, and aluminum. Compared to laser cutting, water jetting produces a significant amount of waste due to the abrasive used, and the process can be quite loud.
If you have any questions about laser cutting, water jetting, or any of our other manufacturing processes, reach out to us at Stainless Outfitters Inc. today. We look forward to hearing from you!