Laser cutting is a reliable, efficient, and accurately repeatable way to manufacture stainless steel products.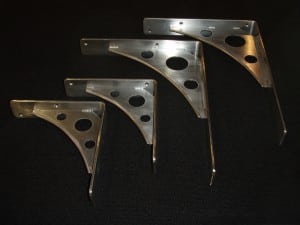 Laser cutting has many advantages when it comes to the production of various metal parts and products. For example, when laser cutting technology is used, the process can cut many types of materials of varying thicknesses. Laser cutting is also reliable, efficient, and accurately repeatable.
At Stainless Outfitters Inc., we are proud to offer laser cutting services to our clients throughout the Barrie, Ontario area. If you need a piece of stainless steel, or another type of alloy, cut to a certain width or shape, we guarantee we can complete your project with the utmost precision.
The CNC machine we use when we provide laser cutting services can be programmed to cut whatever design you desire. From intricately designed pieces to simple rectangles, this metal fabrication method is a beneficial way to produce industrial equipment, parts for household appliances, automotive parts, and much, much more.
While laser cutting is a particularly advantageous method for cutting stainless steel and other metals, it is not necessarily the right process for every project. We will put our many decades of experience in the industry to work for you and determine which method of cutting will best complement your needs.
For more information about laser cutting and our capabilities, please contact us at Stainless Outfitters Inc. today. We look forward to managing your project and to introducing you to the exceptional quality of our work.
Save