Our stainless steel cabin top handrails make it easy to achieve the safety and function you want for your boat.
If you love to be out on the water, then you know the feel of the wind in your hair as you climb up to the top of your boat and hold on as you glide along. As you look around at your boat from above, you grab the cabin top handrails to feel safer and more secure. At Stainless Outfitters Inc., we believe that your cabin top handrails are an essential part of the boating experience, but they are also an important part of the way your boat functions and looks. Our stainless steel options make it easy to select the handrails that look and feel great any time you take your boat out for a drive.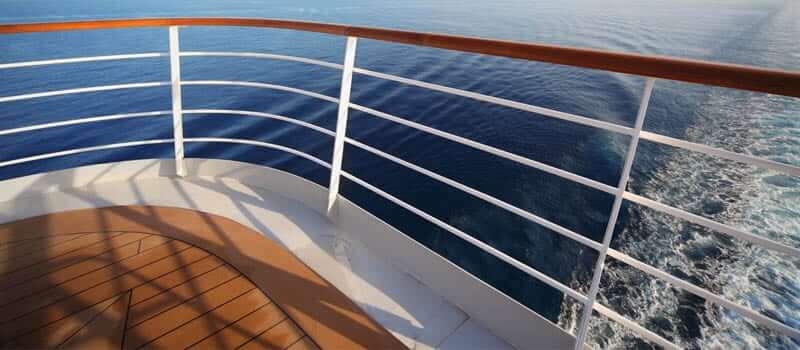 Security – Having cabin top handrails that fit your boat appropriately is an important safety feature. It allows you and anyone who may be relaxing on your boat to safely enjoy the water from the highest point.
Function – We can custom make stainless steel cabin top handrails that are the perfect match for your boat, so you enjoy the functional space your cabin top provides you. Whether you are going at a fast pace or drifting casually, your cabin top will be the perfect spot to enjoy your time on the water.
Stainless Outfitters Inc. is the original supplier to such well-known names as Hinterhoeller Yachts, Toronto Parks and Recreation, The Ontario Provincial Police, plus many more. We carry on-file boat rail specifications for both power and sailboats built within the last 30 years. If you are interested in adding new cabin top handrails made of stainless steel to your boat, contact us today.
---
At Stainless Outfitters Inc., we offer stainless steel cabin top handrails in Barrie, Orillia, Newmarket, Alliston, Muskoka, Collingwood, Meaford, Thornbury, Stayner, Wasaga Beach, Midland, Penetanguishene, Gravenhurst, Bracebridge, Parry Sound, Owen Sound, Huntsville, Toronto and the GTA, as well as all of Ontario and North America.