Stanchions are a must-have product for any physical location that handles lots of people.
While the word might be slightly unfamiliar, the chances are extremely good that you have had several interactions with this product throughout your life — possibly even today! We see them in airports, banks, grocery stores, amusement parks, museums, and all sorts of other places that tend to draw public crowds. What are we referring to? Stanchions, of course!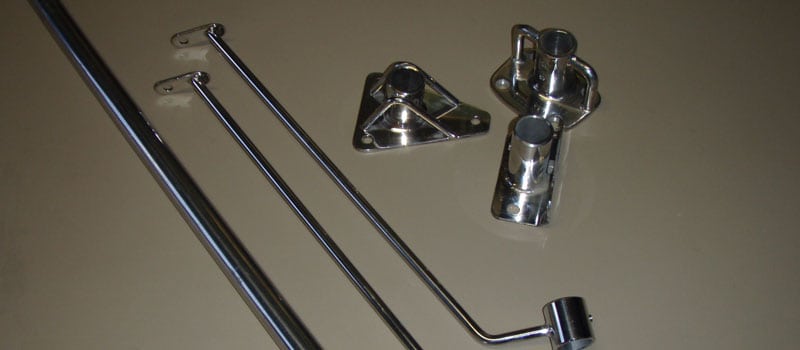 Stanchions are posts that stand upright and can be either made to be fixed to the floor or to be mobile. These stainless steel posts, when accompanied with a rope or retractable belt, make crowd control much easier since even the longest of lines have a clear, laid-out route to follow. Additionally, stanchions make it possible to change the route of the wait from time to time to accommodate the length of the lines. Without the use of stanchions, businesses can actually lose money due to customers not wanting to try and fight their way through a long and unclear line. If you have any kind of physical location involves people waiting in line, stanchions are a must-have!
Here at Stainless Outfitters Inc., we manufacture and produce stanchions along with many other stainless steel products. We use high quality 304L or 316 stainless steel in our production methods in order to ensure high-quality stainless steel in all of our products, including things like stanchions. We would love to talk to you further about our stainless steel products, including stanchions. Please give us a call today!
---
At Stainless Outfitters Inc., we offer stainless steel stanchions in Barrie, Orillia, Newmarket, Alliston, Muskoka, Collingwood, Meaford, Thornbury, Stayner, Wasaga Beach, Midland, Penetanguishene, Gravenhurst, Bracebridge, Parry Sound, Owen Sound, Huntsville, Toronto and the GTA, as well as all of Ontario and North America.