Ask us about our stainless steel radar arches for the next time you take your boat for a spin.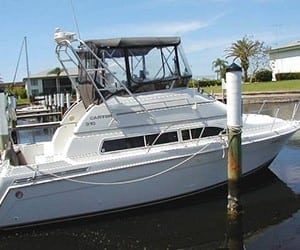 Radar arches are an important add-on to any boat. Not only do they improve your space and your overall comfort, but they're also important for your safety while on the boat. With all the different options for mounting items onto your radar arches, you'll want to make sure that yours are strong enough to hold whatever you throw at them. Common items that you may want to mount on your radar arches include the following:
Speakers—For music and other entertainment
Antennas—For radio signals
Lights—So other vessels can see you and so you can walk around on your boat safely at night
Radar Device—To detect obstacles
Whatever you use your radar arches for, you'll want to make sure they are strong and stable. That's where we come in. Here at Stainless Outfitters Inc., we know you have a keen sense for detail and always want to be able to trust your radar arches to perform as promised. That's why our experts are the ultimate choice for your next project. We will work with you to make sure that you are completely happy with your radar arches when all is said and done—and that they fit your boat hardware flawlessly.
When you're ready to upgrade your boat hardware, give us a call to learn more about radar arches and the other stainless steel services we offer that might interest you. We love serving our neighbors in Barrie, Ontario and will always do our best to deliver accurate, honest services every time.
---
At Stainless Outfitters Inc., we offer stainless steel radar arches in Barrie, Orillia, Newmarket, Alliston, Muskoka, Collingwood, Meaford, Thornbury, Stayner, Wasaga Beach, Midland, Penetanguishene, Gravenhurst, Bracebridge, Parry Sound, Owen Sound, Huntsville, Toronto and the GTA, as well as all of Ontario and North America.