We are proud to supply the marine industry with custom-designed bow rails and more!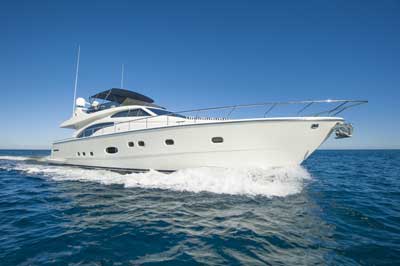 There are a number of industries that utilize stainless steel in the construction of their products and the marine industry is one of them. Most watercraft actually have many stainless steel features, including bow rails, stern rails, radar arches, anchor carriers, ladders, swim platforms, handi-lifts, stemheads, and tee tops. Here at Stainless Outfitters Inc. we work with boat builders as well as boat owners looking for quality, durability, and aesthetic beauty.
Call us for custom bow rails for the initial build of a boat or to replace the original bow rail. If you have one that fits perfectly but doesn't have the features you want, just bring it to us to discuss what changes you envision. We can create the one-of-a-kind result you want that will add beauty and value to your boat. Whether you want to change the railing because it isn't as strong as you'd like, has deteriorated, or you want a different look or function, don't hesitate to run your ideas past us. We can fabricate bow rails from drawings or help you create the design drawings you have in mind.
We can build bow rails to any height and length while giving you a smooth result that is easy to grasp and won't have rough edges that could ruin your day on the water. With our tube cutting and bending expertise and other skills, we are confident you'll love the results. Many well-known names in the marine industry, such as Hinterhoeller Yachts and C&C Yachts, have trusted us for exemplary work and you can too!
---
At Stainless Outfitters Inc., we offer stainless steel bow rails in Barrie, Orillia, Newmarket, Alliston, Muskoka, Collingwood, Meaford, Thornbury, Stayner, Wasaga Beach, Midland, Penetanguishene, Gravenhurst, Bracebridge, Parry Sound, Owen Sound, Huntsville, Toronto and the GTA, as well as all of Ontario and North America.