Drop anchor with ease by asking us about our anchor rollers.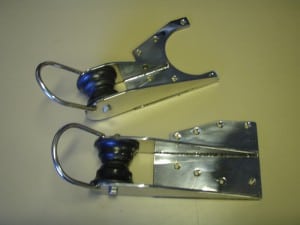 During a fabulous day out on the water, no one likes to stress about the little things, so dropping anchor shouldn't be something to worry about either. When you're enjoying fun in the sun and soaking up the fresh air, you might opt to drop anchor and stay a while—but this seemingly simple task can become more arduous without the right tools. That's why we're so proud of our stainless steel anchor rollers.
Here at Stainless Outfitters Inc., we know that your time on the water is limited between work and other responsibilities. We want to make what little time you have even better by equipping you with the best tools and resources. That's why our stainless steel anchor rollers are super durable, and they easily attach onto the side of your boat to help you protect your topside from scrapes, dings, and other superficial damage.
When you give us a call, you can expect nothing less than the best treatment around in Barrie, Ontario. Our repeat clients know that when they need stainless steel work completed, we're the best ones to ask. It's our mission to keep your boat safe and on the water for many years to come.
If you haven't yet thought about why your topside keeps getting scraped, we'd wager that your lack of an anchor roller may be the culprit. We can all band together to get you the best stainless steel anchor roller possible. Let us know fi you have any questions or concerns.
---
At Stainless Outfitters Inc., we offer stainless steel anchor rollers in Barrie, Orillia, Newmarket, Alliston, Muskoka, Collingwood, Meaford, Thornbury, Stayner, Wasaga Beach, Midland, Penetanguishene, Gravenhurst, Bracebridge, Parry Sound, Owen Sound, Huntsville, Toronto and the GTA, as well as all of Ontario and North America.