We'll work with you from concept to creation to ensure that your ramp rails meet your requirements.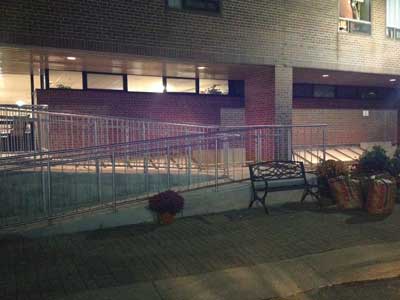 Creating a secure and aesthetically pleasing entryway can be a challenge when you have a ramp instead of stairs. While a ramp can be helpful for loading purposes, providing handicap accessibility, and meeting other building functional requirements, it is also important that they are outfitted with the appropriate handrails for greater function and appeal.
At Stainless Outfitters, Inc., we understand that you want your ramp rails to enhance the aesthetic of your ramp just as much as they provide function. Fortunately, we can deliver exactly what you need with stainless steel ramp rails designed and constructed to your exact specifications in Barrie, Ontario.
From movie theaters to business entryways and residential ramp rails, we are equipped to design stainless steel rails for virtually any application. It's important to us to work with you from concept to creation to ensure that your ramp rails meet your functional and aesthetic requirements. Whether you desire standard ramp rails that are going to beat the test of time or you need something delicate or ornate to enhance your interior and exterior features, you will find us able to provide just that.
Not only are we committed to using the highest-quality steel from certified North American manufacturers, but our ability to create custom and one-off products makes us your top choice for all of your stainless steel requirements. If you have questions about our products or how we can design ramp rails, handrails, and other functional security features, contact us at Stainless Outfitters, Inc. today.
---
At Stainless Outfitters Inc., we offer stainless steel ramp rails in Barrie, Orillia, Newmarket, Alliston, Muskoka, Collingwood, Meaford, Thornbury, Stayner, Wasaga Beach, Midland, Penetanguishene, Gravenhurst, Bracebridge, Parry Sound, Owen Sound, Huntsville, Toronto and the GTA, as well as all of Ontario and North America.